Protect yourself from the unknown?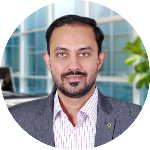 Posted on: 16 Sep 2021 | Author: Mohit Kohli | Cyber Security Posture
---
This is a story of an emperor who wanted to protect people and grow his empire. Once he had to face the biggest battle. He conquered the battle through back door intelligence of the enemy. With a risk-based approach he was able to predict the actions of the enemy. This made him invincible.
In today's world, CISO organization faces the same battle but against the cyber war and are therefore are under constant pressure to protect organization. Even after spending millions of dollars on acquiring new products still breaches are happening as there is no context to security. Even after deploying sophisticated tools there is no threat sharing mechanism which can enable zero trust architecture and analyze organization across multiple dimensions.
4 Myth of CISO organization
Single Dimension Risk awareness is sufficient:

Organizations operate in a single dimensional plane (Inside-out) to understand the cybersecurity security risk posture. However, this is not sufficient to measure the complete value chain risk.

Context ≠ Visibility:

On average organization uses 17-18 cybersecurity tools to detect suspicious activity. These solutions work great as a standalone module; however, fail to provide digital context to threat and hence the traditional playbook model collapse.

The success of Phishing simulation=Protection against Phishing attacks:

80% of data breaches are due to stolen credentials and organizations still leverage the traditional blacklisted database approach. The efficiency rate of such a solution is just 80%, leaving last-mile users prone to a targeted phishing campaign.

Episodic Vulnerability management provides complete coverage:

Vulnerability management is a point in time assessment scanning element present during that time. The organization is so dynamic that it includes changing asset element bring vulnerabilities to your IT Landscape.

Zero Trust means Zero Risk:

The residual risk of zero trust model does not quantify it as a Zero Risk solution.
How does Foresiet manage the "invisible/unknown" threat?
We Provide Digital Trust with context to security protecting business and People with a contactless security solution to detect, protect and self -heal from breach epidemic with instant seamless and effortless recovery.
Integrated Digital Risk Platform Provide a Multidimensional INSIDE-OUT, OUTSIDE-IN and OUTSIDE-OUT panoramic view of companies' Identity, Data, and Assets with Threat Advisory by analyzing the entire internet for organization context to mitigate cyber-attacks.
How we empower our customer- 5 winning strategies for your business
Foresiet has an inbuilt solution in the form of our Integrated digital risk platform where we provided the following
Real-time Unified dashboard

70% organization doesn't have visibility of exposed asset and associated risk it brings to the organization. Foresiet provides complete visibility around the attack surface using multidimensional cybersecurity assessment with actionable Intelligence. Workflow-based remediation helps risk owners to assign security incidents and measure the digital risk efficiently.

Single Chatter for unified view

Foresiet brings a different view for the enterprise to slice and dice elements based on the role-

One View:

A unified, comprehensive view of cybersecurity posture with accurate risk calculations that incorporate both security and business context.

Operational View:

This view helps the infosec team to manage incidents effectively using Threat advisory, workflows, notifications, reports, Self-takedown, and other capabilities that are integrated into the dashboard. The role-based access enables organizations to create different personas to manage & prioritize risk.

Executive view:

This view provides senior management visibility about the overall risk and confidence score. CISO organization can map the business context and also demonstrate residual risk- including technology, people, and process aspect to the board of directors.

Pluggable Anti-phishing module

Protecting a last-mile user is the biggest challenge in the security industry.

Last Line Protection with behavioural analytics

Once Foresiet agent deployed on the user machine, it starts protecting the user from targeted phishing attacks along with cyber posture correction. It provides behavioural analytics, enterprise visibility along and Auto-Pilot capability for the last-mile users.

Continuous brand protection that reduces any damages and related penalties.

Anti-phishing module Anti-Rough Application Services start protecting organizations from digital internet fraud. Foresiet scan the complete internet bring the context to the organization, apply artificial intelligence to remove unwanted data. Once an incident is identified, it provides one-click takedown approach for users to remediate threats easily.

Continuous Vulnerability and Penetration testing providing attack surface visibility

Once Foresiet is deployed, vulnerabilities are automatically identified, and vulnerable systems are continuously tagged with relevant CVEs. The module is integrated with threat intelligence capability to bring threat actor modus operandi which is not translated into CVE. It's a clicks solution that automatically scans and also if enabled performs exploit validation using an AI engine.

Dark web Monitoring with Threat Intelligence helped to stay one step ahead of cybercriminals

Once enabled the module scan the dark web to bring context-specific information about leaks- Credential, PII information, credit card, Threat advisory, etc. to mitigate the threat proactively.